FARNBOROUGH, UK: 2 March 2010 - Autodesk, Inc. (NASDAQ: ADSK), a world leader in 2D and 3D design and engineering software, has announced the availability of the AutoCAD® Inventor LT™ Suite in the UK. AutoCAD Inventor LT Suite helps manufacturers compete more effectively by adding the benefits of 3D design to their development process by combining AutoCAD LT® and Autodesk® Inventor LT™ software in one affordable package.
The solution is available to end users at a recommended reseller price of £1,400.
Auto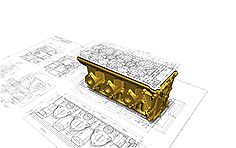 CAD Inventor LT Suite lets you choose the right tool for the job. Seamless DWG™ interoperability between AutoCAD LT and Inventor LT software allows you to leverage your 2D expertise and data to begin designing parts in 3D. Modelling your parts in 3D with Inventor LT enables you to create and update production-ready drawings faster than with manual 2D methods. Even manufacturers who are not themselves designing in 3D need to communicate in 3D with customers, partners, and suppliers. Inventor LT gives you the ability to import and export 3D part models in common file formats without relying on expensive file translation software, helping to improve communication with your extended supply chain. And it also enables you to work with most 3D CAD data formats.
"Autodesk believes that users need both 2D and 3D tools, and the popularity of the Autodesk® Inventor® family of products is a testament to the fact that many across the manufacturing space agree," says Jaime Herrero-Velarde, EMEA retail industry manager, Autodesk. "With AutoCAD Inventor LT Suite, customers can design and collaborate in 3D at the part level with Inventor LT, and also use AutoCAD LT when the job calls for 2D design."
"In the current economic climate, manufacturers are battling intense competition and are looking to boost productivity. But budgets are often tighter than ever before. The AutoCAD Inventor LT Suite offers a very cost-effective way to get the 2D productivity benefits of the latest version of AutoCAD LT and provides them with the opportunity to take their first steps towards 3D mechanical design at a pace that suits them," he adds. "Introducing 3D with Inventor LT can help you compete more effectively today, while putting your organisation on a scalable path to the full power of Digital Prototyping tomorrow."
For more information about the AutoCAD Inventor LT suite, please visit:
http://www.autodesk.co.uk/inventorltsuite
Happy Inventing!